Less admin, more time.
Making business easier.
Automate your bill payments (payables) and invoice collection (receivables) straight out of Xero.
​
Pay and reconcile all your BPAY & Supplier bills automatically. No ABA, BPAY files or manual uploading required.
​
Don't miss early payment discount savings offered on your bills with bills discount automation.
​
For invoices, use the new early payment discount capability combined with payment options such as BPAY, direct debit and cards to get paid earlier.
​
Start your 14 days trial.
Pay bills automatically (Accounts Payable)
We pay & reconcile your bills directly from Xero
Make your job easier.
Don't manually pay bills anymore.
Automate it.
No ABA, BPAY files or uploading needed.
Auto-pay BPAY and supplier bills.
Save time, reduce risk & remove errors.
​
Auto-Pay BPAY and local supplier invoices
BPAY Batching out of Xero
Automated remittance advices
Auto-reconcile back into Xero
Keep your banking credentials and bank balance private.
​
We don't need your banking credentials
No access to bank balances required
All bank and cards accepted
AFSL and PCI compliant
1-click Auto-Pay.
Easier internal approvals.
Auto-bank account allocation.
​
Auto-Pay bills from different bank accounts
Optional Parakeet payment approvals
Use Planned date for one-click Auto-Pay
Automated Pending Payment reports
Guaranteed success.
One-on-one onboarding service.
​
14 days free trial, no lock-in contract.
Flat monthly pricing
Customisable set-up
30 min set up, works straight out of Xero
Give customers a reason to pay you first (Accounts Receivable)
Add early payment discounts to Xero invoices
Pay early. Get a discount.
Early payment discounts for Xero.
Try it.
"95% of customers surveyed said they would pay an invoice early if they were offered a discount?"
Add early payment discounts to Xero invoices and save time chasing.
​
Integrates with your Xero invoices
A new 'Check todays price' button
Discounts only given if they pay early
Less chasing, more cashflow for you
Savings for your customers
​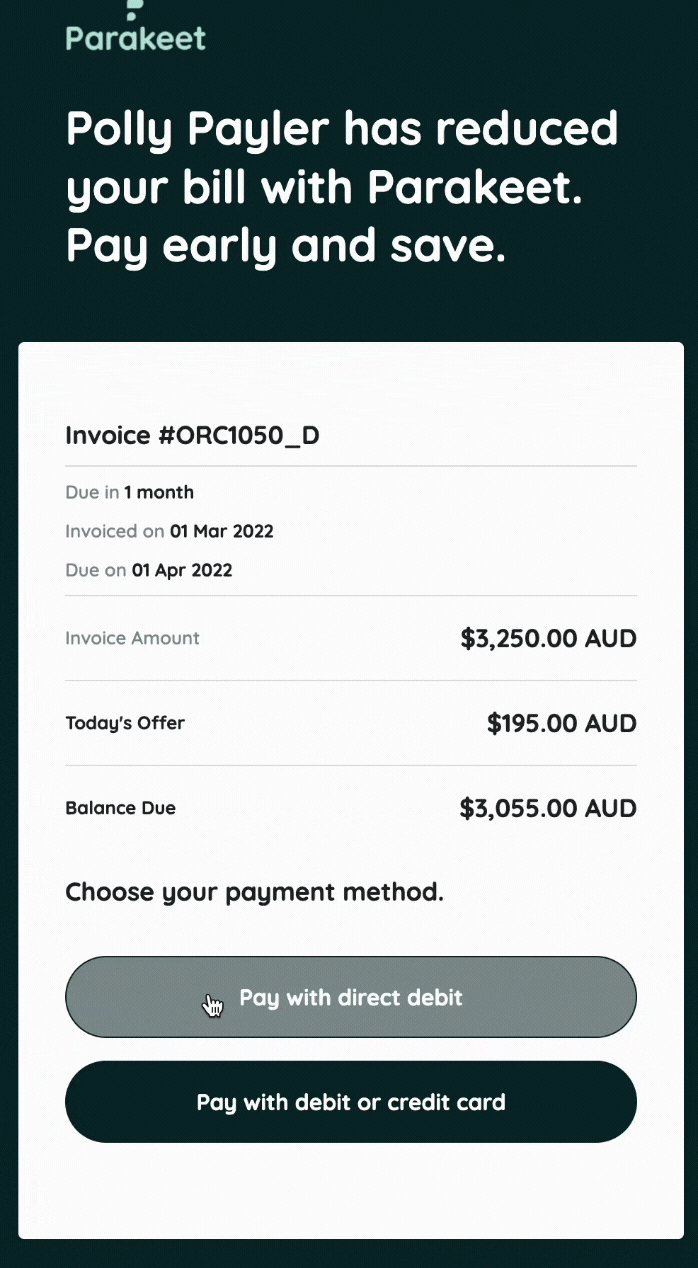 You decide the discounts and terms. ​
One-time set up.​
​
You decide:
Who gets a discount
What discount rate to offer
Reducing (incremental) discounts
Flat static discounts
Reconciling short-payments is hard, so we automated it for you. ​
​
We set up chart of accounts and automate reconciliation of the net payment amount, adjusting for discounts & surcharge.
​
Keep your current payments provider, but offer discounts with Parakeet.
​
You don't need to change payments provider or disrupt your AR processes.
Selectively offer discounts on some or all of your invoices. Nothing to lose.
Helping Australia's business community
Payment options for your customers (Accounts Receivable)
Add BPAY, direct debit, cards to Xero invoices
More payment options.
BPAY, direct debit & cards.
Integrated with Xero.
Offer direct debit.
All you need is a bank account.
​
Once we verify your bank account details and KYC checks, you are ready to accept online payments via direct debit.
Bring your 'bank' merchant facility to Xero invoices and save.
​
In addition to Stripe & Braintree, you can now use your own negotiated bank sponsored online-merchant facilities (e.g Westpac, ANZ, CBA, NAB, etc) into Xero invoices. See the list here.
Have a BPAY facility?
Add it to your Xero invoices.
​
Add BPAY and CRN to Xero invoices
Auto-reconcile BPAY receipts to Xero invoices. Learn more here.
We work alongside your existing payment providers. No commitment.​
​
You don't need to switch or disrupt your AR processes. Run Parakeet in parallel with your existing payment providers or selectively on certain invoices or customers.
Government Recognition
​
Parakeet has been recognised by the Department of Industry, Science, Energy & Resources and awarded the Accelerating Commericialisation Grant by the Entrepreneur's Programme.
Accredited BPAY Partner​
Read press release here.
PCI-DSS Compliant​
Security protocols across our platform, applications and API integrations have been fully audited and certified with this globally recognised standards.
Accredited AFSL Holder
​
Australian Financial Services License holder number 513209.