Add online payments to Xero invoices with bring-your-own (BYO) banking, BPAY and merchant facilities
Add online payments to your Xero invoices using your own banking, BPAY and merchant facilities with Parakeet.
​
Now customers can pay directly from your Xero invoice by using the 'pay now' button.​
​
Don't have an online card facility? No problems.
Parakeet's in-build direct debit facility means you can still capture online payments via your Xero invoices, with customers given the option to pay via bank account.
Like to use your own credit card merchant facilities? Great. Parakeet supports 10 'bank' merchant providers plus online providers Stripe & Braintree.
​
BPAY too. Learn more here.
​
Taking online payments is the easiest way to make sure you get paid and gives you the unique opportunity to even add real-time early payment discounts to encourage faster payments.
Start the 14 days free trial now to see how easy it is.
​
Activate online payments for your Xero invoices with BYO banking...
Adding online payments to your Xero invoices is easy and quick
Set up your invoice payment details in Parakeet
​
Whether you like to receive payment via EFT and / or via Cards, Parakeet supports Bring-Your-Own (BYO) banking.
​
We will on-board your business and include simple step by step for you to reference.
To receive EFT (Bank) payments
For direct debits (direct credits) supported by Parakeet, we support deposits to any Australian denominated Bank account (subject to account ownership verification and 3-4 business days funds clearing).
​
To receive Card payments, BYO merchant ID
If you have an existing 'bank' internet merchant facilities provided by AMEX, ANZ, Bank of Melbourne, Bankwest, Bendigo Bank, CBA, First Data, Macquarie Bank, NAB & Westpac, you can now use it with your Xero invoices.
​
For BYO 'online' merchant facilities, we support Stripe and Braintree.​
​
See FAQ for details required for each merchant provider.
Add Surcharges to Card payments
​
You can choose to pass on your card costs in the form of a surcharge to your customers who chose to pay via Cards.
​
This can be set up for both AMEX and Mastercard/Visa.
Finally, connect and you are ready to take online payments
​
Once connected, we automatically create the right set of Chart of accounts and apply online payment options to your branding themes in Xero.
No additional effort required by you.
Update your customer's Xero contacts
Keep you customer's contact details (Contact Name Primary Person, Email &Tax (ABN)) up to date in Xero and all your invoices will be ready for on-line payments.
This also gives you the option to get paid even earlier by adding early payment discounts to your Xero invoices. ​
​
How it works...
From invoicing to payment
Send and email your Invoices from Xero
Once the invoices are approved in Xero, online payments are attached to your invoices.
Customers receives the 'Pay now' email
Once your customer click the 'Pay Now' link in your Xero invoice, it will now take them to a new page.
​
(💡 Do your customers always 'forget' to pay you? Try adding early payment discounts into the invoice and see if they pay you right away!)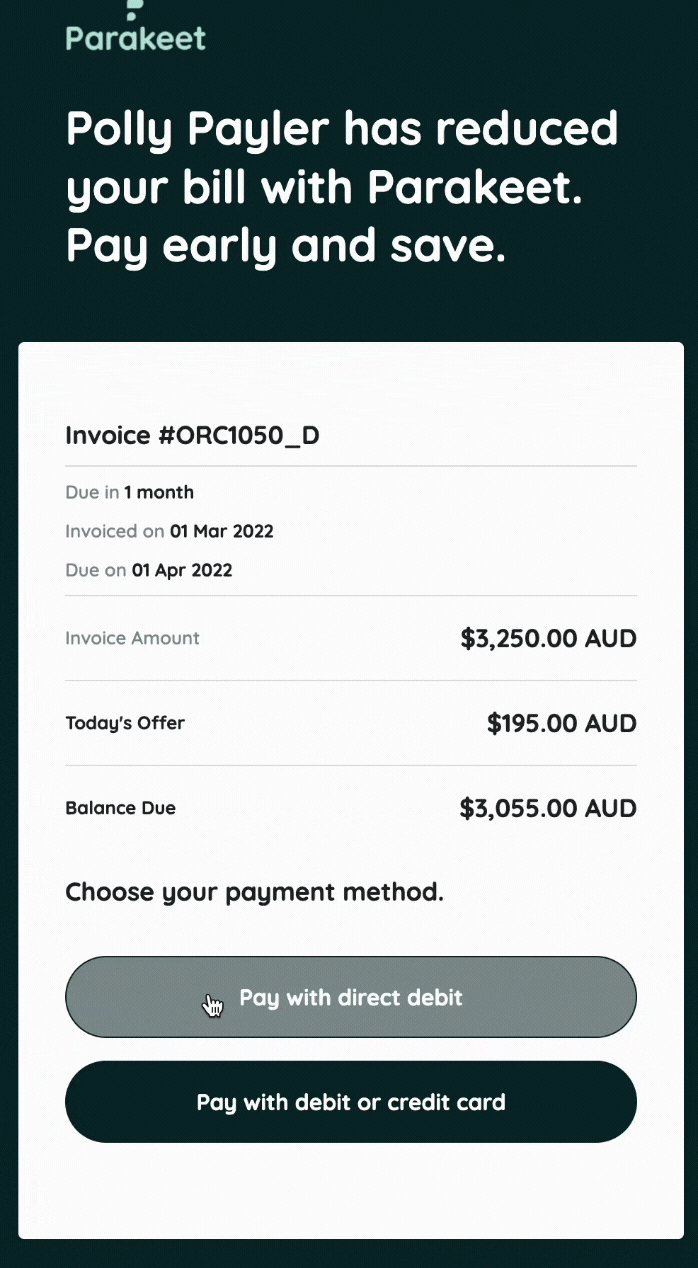 Your customers can now pay you, straight from the invoice!
(or using the Parakeet Portal)
Your customers are presented with an option to pay via bank account or if configured, Cards too. ​
​
Your customers do not need to be Parakeet users to take advantage of this.
We take care of all the entries for discounts, surcharges recovered and close out your invoices automatically, so all you need to do is "1-click" bank rec. See here to learn more about reconciliation.
We have simplified your Xero & bank reconciliation to just 1-click
We know reconciling different payment methods are a pain to deal with, so we...
Sorted out the book keeping entries too
Every invoice paid (early or on-time) is individually marked as paid in Xero, with accurate discount charges applied to save you time and effort.
Where applicable, we automatically create a 'Spend money' transaction in Xero, to record discount you may have given against an interim clearing account* and book it under your new Discounts Expense* account.
​
For Surcharges Recovered under Card payments, we create a 'Receive Money' transaction and record it against a new Surcharge Recovered* expense account.
​
* We help establish these accounts as default, however you can customise it at anytime.
Finally, we 'sum' the amount you receive into a 'Final Clearing' account by payment method so when you download and reconcile your bank statement, you will see the batched amount, ready for you to 'match' off.
In this example, you received a batched amount of $5,922 from EFT / direct credits & $2,250 from your card /merchant provider.
​
Now instead of your trying to match individual invoices to the bank entry, you simply have to do a "1 - click transfer" to your 'Parakeet AR Clearing (Final)' account.
​
Reconciliation done.
Learn how to set up Parakeet.
Scroll to:
1:00 for Adding Online payment options
1:16 for Merchant account setup