Scale your AP & AR business with Parakeet
Use Parakeet to remove manual AP & AR processes for your business and free up time to service more clients.
​
For bills (AP), use Parakeet to auto-pay your customer's EFT bill payments or pay BPAY bills via batching and BPAY Auto-Pay options.
​
For invoices (AR), set up your clients to take online & recurring payments with their existing banking or credit card facilities using BYO online payments.
Convert sales into cash quickly with real-time early payment discounts and help introduce BPAY to Xero invoices to simplify reconciliation.
Instead of spending your time making and collecting payments or fixing client reconciliation errors, contact us to see how our automation can help you.
We automate the grunt work so you have more time for new business
How to help your clients with AP
You help set & keep your client's vendor details up to date in Xero.​
​
For EFT (bank accounts), 5 fields are required.
(Contact, Primary Person, Email, Tax (ABN) & Batch Payment field)
​
For BPAY, 3 fields are required
(Contact, Tax (ABN) & BPAY details in Batch Payment field)
​
Load the bank accounts and/or cards your clients like to use.
​
Drag & Drop to prioritise them in the order you like us to pay with.
​
After that, it is fully automated.
You can also help your clients set a limit to make sure they stay within their monthly budget.
​​
Approve the bills in Xero
We will never pay a bill unless it has been approved in Xero by you or your clients.
We accept all approval tools such as Xero's in-built approval button or another app like Approval Max.
You can also add an extra layer of control by enabling Parakeet's in-build approval tool.
​
Once it's approved, we schedule, pay and reconcile the bills. ​
That's it. We pay the bills on the due date​
​
We will automatically pay BPAY and EFT bills for your clients when they are due.
For BPAY batches, we email the batch to you or your clients for action.
​Reconciliation
​
We also automate the book-keeping entries so you can spend more time on growing your business and less time reconciling bill entries.
​
You can see the reconciliation entries here.
Help solve your client's AR problems and reduce your workload
How to help your clients with AR
Keep the customer's contact details (Contact Name Primary Person, Email &Tax (ABN)) up to date in Xero and all your client's invoices will be ready for on-line payments.
This also gives your client the option to get paid even earlier by adding early payment discounts to their Xero invoices. ​
​
Set up how to get paid in Parakeet
​
Whether your clients receive payment via EFT and / or via Cards, Parakeet supports Bring-Your-Own (BYO) banking.
​
Customers receives the 'Pay now' email
The 'Pay Now' link in Xero invoices are now activated.
​
(💡 Do customers always 'forget' to pay invoices? Try adding early payment discounts into the invoice and see if they pay right away!)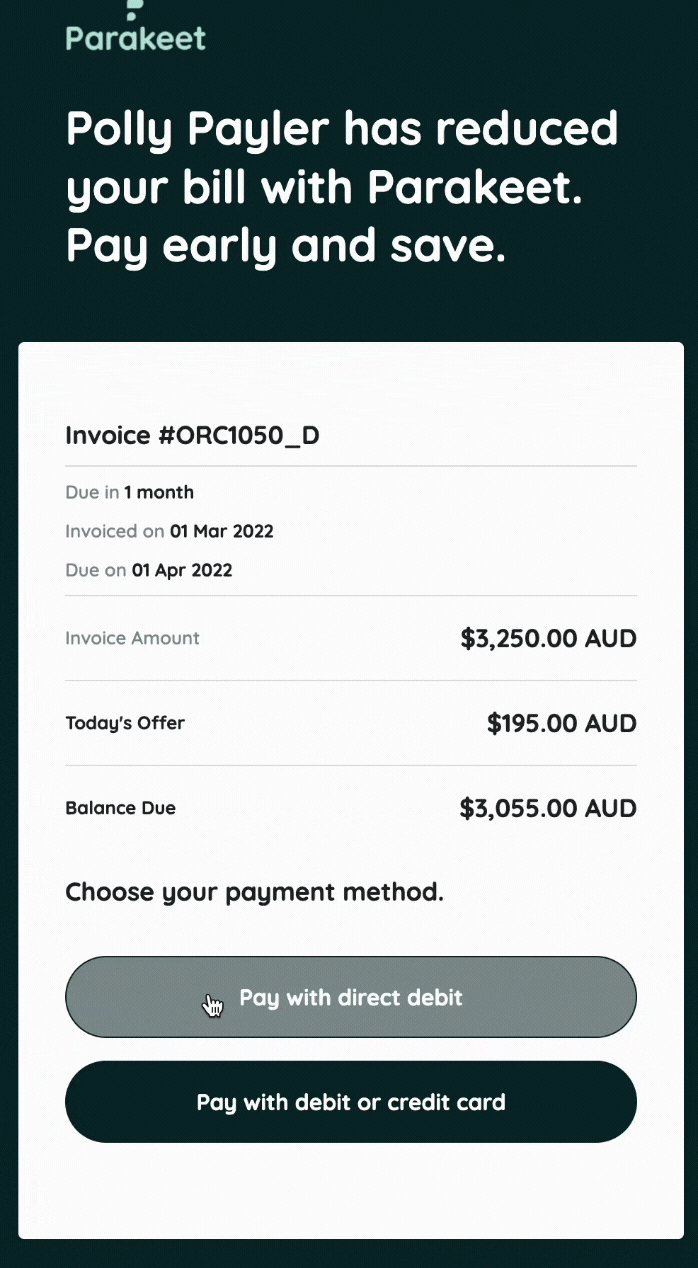 Customers can now pay straight from the invoice! (or using the Parakeet Portal if they are registered)
Customers are presented with an option to pay via bank account or if configured, Cards too. ​
​
Customers do not need to be Parakeet users to take advantage of this.
We take care of all the entries for discounts, surcharges recovered and close out your invoices automatically, so all you need to do is "1-click" bank rec. See here to learn more about reconciliation.
1. Book a demo and call with us
2.

Get Parakeet free for your practice
3. Configure & on-board your clients
Register here and we will be in touch for a 30 min demo. ​
​
In this call, we can discuss and answer any questions you have.
​
You can also watch the demo below.
Get Parakeet for free to use for your practice (optional).
​
The best way to understand and stay current with Parakeet is to use it yourself.
See how we pay & reconcile your client's bills